Maine Septic Inspections
---
What will the Septic Inspection cover?
Septic system inspections should be performed for Real Estate transactions and on an annual basis to ensure proper function. The septic tank is the most expensive household fixture and its lifespan will be shortened significantly if it is not maintained.

This is a hand dug visual septic inspection. NOT a simple dye test.
All septic inspections are performed with state of the art cameras
Check the sludge level with a "sludge judge" or a similar device.
Inspection of the septic tank and drainfield
Ensure that the system is large enough for the home that it serves.

Check for liquid waste that has made its way to the ground surface.

Lids will be inspected for cracks and made sure they are secure.

Make sure that the baffles are firmly connected to the tank's inlet and outlet pipes.

Drain lines will be examined by opening the distribution box.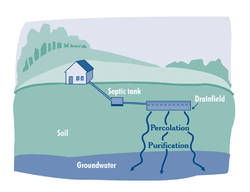 A typical septic system has four main components: a pipe from the home, a septic tank, a drainfield, and the soil. Microbes in the soil digest and remove most contaminants from wastewater before it eventually reaches groundwater. The septic tank is a buried, watertight container typically made of concrete, fiberglass, or polyethylene. It holds the wastewater long enough to allow solids to settle out (forming sludge), and oil and grease to float to the surface (as scum). It also allows partial decomposition of the solid materials. Compartments and a T-shaped outlet in the septic tank prevent the sludge and scum from leaving the tank and traveling into the drainfield area. Screens are also recommended to keep solids from entering the drainfield. The wastewater exits the septic tank and is discharged into the drainfield for further treatment by the soil. Micro-organisms in the soil provide final treatment by removing harmful bacteria, viruses and nutrients.
---